Cartels and chemical peels?
What do you think when you hear Colombia?
What about Bogota?
Don't worry; if you think cartels, you are not alone. Colombia has a reputation for being the cocaine capital of the world. In fact Colombia is responsible for 43% of the world's supply of cocaine.
Wait a second! Where are you going with this Tanisha?
Hold up, I promise there is a method to my madness.
Colombia is a far cry from the dangerous place it was in the past, and it has recently tried to rebrand itself to encourage tourism. But its past has framed a large part of its culture.
How on earth are you going to make a positive connection between the illegal drug trade in Colombia and its current culture?
Well, the reign of the cartels within Colombia has made for a booming beauty industry. Pablo Escobar, who ruled with an iron fist, was particularly picky about the appearance of the company he kept. This demand for aesthetic perfection made its way into the general populous and even with the end of the cartels the desire for aesthetic perfection ensues.
Because of this cultural attitude, however unsavoury its beginnings, the love of beauty and the access to quality beauty services in Colombia is out of this world. If you ever find yourself in Colombia, do yourself a favour and get yourself to a spa. The range of services offered is INSANE.
Every time I leave Bogota, I leave feeling relaxed, beautiful and like a baby seal. And I do all of this without feeling a hit in the wallet. From hot stone massages, to eyelash extensions to micro-blading, Colombia offers the best services at the best prices. It's no surprise that many people in aviation utilize their layovers as a time to beautify.
Go ahead girl, treat yo'self.
Your body is your temple, and the Colombians sure know how to take care of it. Get your nails done, get your hair done... when in Rome right.
In fact, my time in Bogota has been so wrapped up in treating myself that I couldn't tell you much about what the city looks like. But... if it ain't broke.
Maybe one day I'll venture out and take in the city, but for now you can bet your bottom dollar I'll being using my layovers to escape to my own private oasis.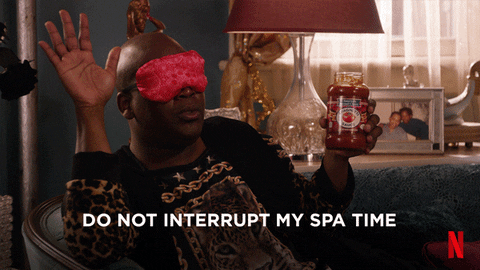 Ps. It's not only spa services where Colombia dominates the beauty industry. Medical tourism is huge in Colombia. Colombia offers modest prices from some of the most reputable plastic surgeons in the world and it's not uncommon to see someone wrapped in bandages for their flight home.
While I don't promote altering your appearance with plastic surgery, I did feel like I should share the knowledge I am lucky enough to have.